Mortgage, remortgage, buy to let mortgage?
Get expert advice at the start.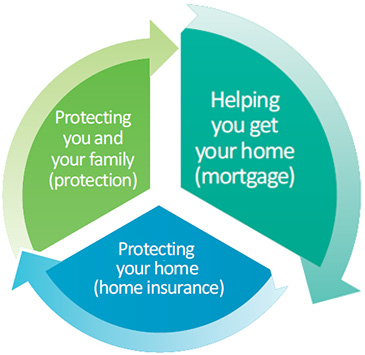 Mortgages are complex, and constantly changing.
Our CeMAP Diploma qualified mortgage brokers can help you to see through the jargon.
It's all about you.
You're not just choosing a mortgage, you're making decisions about your future; it's really important to consider your circumstances and make an informed choice. Are you downsizing, starting a family, changing your job, making home improvements, consolidating your debts, or building a business? We'll ask you all about your situation to understand your finances before searching the market.
Access all the options.
We are unbiased, independent mortgage brokers. That means we can assess hundreds of mortgages, including some that are exclusive to brokers, and then recommend a product that meets your specific needs. Whether you're looking for a remortgage, a buy-to-let, or a first mortgage, you'll have a broad choice with different options. Our mortgage brokers take the time to talk to you about them so you can be confident in your choice.
Our areas of expertise
These are just some of the areas that we can help you with:
Buying your first home
We understand that it's not easy for first time buyers - fixed rate, tracker, variable deals - how do you decide which is best for you? What can you afford? That's what we're here for. As your local broker, we'll do the legwork for you, searching through hundreds of deals from a wide range of lenders and then give you the advice on what's right for you, your needs and your budget! And remember, a mortgage 'agreement in principle' puts you in a stronger position when you find the property for you and want to make an offer.
A mortgage is a loan secured against your home or property. Your home or property may be repossessed if you do not keep up repayments on your mortgage or any other debt secured on it.
Moving house
If you're looking to move house, then it makes sense to look at what mortgage deals are available rather than simply taking your existing one with you. We can take that worry away for you by finding the right mortgage for you and make sure everything runs smoothly so that you can exchange contracts on time.
Remortgaging
Whether you're looking to re-mortgage to get a better deal or to raise money for home improvements, then it's important to look around at what's available rather than simply stick with the same lender you're with now. The good news is that there is still a wide range of re-mortgage deals available and we're here to find the right one for you.
Think carefully before securing other debts against your home. Securing short term debts against your home could increase the term over which they are paid and therefore increase the overall amount payable. You may have to pay an early repayment charge to your existing lender if you remortgage.
Buy to let
If you're thinking of buying a property as an investment, then getting the right mortgage could be the best move you make! Ensuring you have a competitive mortgage deal could make all the difference to how successful your investment is. As your local mortgage experts, we've got access to a wide range of buy to let mortgages and give expert advice on which one is right for your buy to let venture.
Most forms of buy to let mortgages are not regulated by the Financial Conduct Authority.
All the fees are transparent.
BEFORE you apply (or have to pay a penny), we'll give you a document that shows all of the fees to be charged by the lender and by us. Our fee is typically £395 for simple mortgage applications, or typically 1% for complex applications (including those for people with impaired credit history). For a mortgage of £100,000 this means you will pay £1000. If you choose to proceed with our recommendation and the mortgage goes ahead, we will also be paid commission by the lender.
Why us?
If you're looking for a mortgage and insurance broker in Swindon, give us a try - our service is highly regarded by our customers and all our brokers are CeMAP Diploma qualified - the highest mortgage qualification available. It's been our speciality for years (we used to be called Swindon Mortgages), and we hope that you – like many of our customers – will come back when you decide to move on.
Take a look at our Testimonials page to see what our customers are saying...
How else can we help you?
Mortgage broker (Swindon):
Swindon mortgage broker team: 01793 512697
Email: info@swindonpropertygroup.com